For a majority of people, being a seafarer sounds like a dream. Being on the open seas, with a hefty paycheck that helps feed your family, the life of a seaman seems to be the goal of a lot of families struggling to make ends meet.
Despite its perks, the life of a seafarer also has its share of problems. Aside from the homesickness that comes with being away from loved ones, there's also financial uncertainty. While being a seaman pays a little more than most jobs available to our kababayans, finding the next job after your time onboard isn't easy. Especially if you're the breadwinner of the family. This pressure to find ways to provide for your loved ones in between onboarding can be stressful, especially if your job is the only source of money you have.
Fortunately, there are more opportunities for financial security nowadays. Some might supplement their income with other investments, businesses, or sidelines. Others might find comfort in financial support from credible institutions, often in the form of a seafarer's loan. 
Here at Platinumplus Credit Lending Corporation (PCLC), we believe in allowing seafarers to provide for their families while living out their dreams. And for Ronald Tarrayo, a seafarer, the seamen's loan helped him do just that for financial security.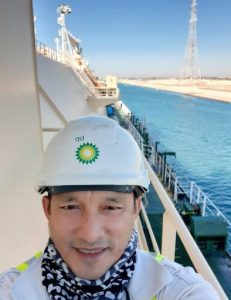 Prior to PCLC, Ronald had been looking for financial assistance at the time. He needed to pay for his child's schooling, and money was tight. Fortunately, it was through an agent he met in front of his office that he learned about the seafarer loan. "May nakilala po akong agent sa harapan ng office namin. May kilala daw po siyang seaman loan, at nagpasama po ako sa agent," he said.
As it turned out, the agent worked at PCLC's Binondo branch. It was there that they introduced Ronald to the seaman's loan, which would change his life forever with its 100% payout and fast approval. "Pinakilala po ako ng agent kay Ma'am Shela, at nagtiwala siya sakin," he recalled. And it was this trust that allowed him to take the next step and secure the money he needed. "Pinag-loan po ako… hindi ko na po matandaan kung magkano po ang na-loan ko."
While he might not remember how much was loaned to him, Ronald regardless was thankful for the care and kindness the PCLC team gave him during this time.
"Mababait po ang employees ng PCLC, lalo na po si Ma'am Shela. Wala po akong masabi sa kabaitan ni Ma'am Shela,"
he recounted fondly. "Matagal ko na pong pinakikilala sa mga seaman ang PCLC."
And thanks to the low interest of the seafarer's loan, Ronald wasn't just able to pay for his child's schooling. He also had no trouble paying it back. As he recalls, he even managed to pay it earlier than he expected. "Natapos ko pong bayaran ang loan ko sa PCLC bago ako makatapos ng contract," he said. 
Indeed, while job security and financial independence might not come easy for our kababayans on the sea, it's great to know that many options help ease the burden in between. But more than giving seafarers the financial support they need, it's also pivotal to give them the trust and confidence to build their own financial future. No matter the uncertainty that lies ahead.
Want to write your own success story, too? With our #KaagapaySaBiyahe Referral Program, you can earn as much as ₱10,000 when you refer a friend to us. As long as you're an existing client—borrower and co-borrower; active or not—with good payment records and without a history of restructuring or have any case filed against them, you can join the program. 
To join the program:
You must register for the program to get your unique referral link.

You must refer friends (who are also seafarers) to apply for the loan.

Your friends must have their loan approved within November 15, 2021 to May 15, 2022. *Terms and Conditions apply.
For more information about the #KaagapaySaBiyahe Referral Program, feel free to visit our official Facebook fb.com/OfficialPCLC or https://www.platinumcreditplus.com/refer-loan/ for details.